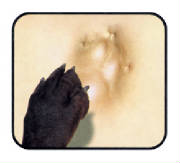 Memory Foam Beds
High-Tech Pet Beds Reduce Symptoms of Muscle and Joint Disorders
Memory Foam Beds conform automatically to dogs' exact weight and shape. Foam returns to its original shape indefinitely without flattening or bunching. 2" memory foam is sandwiched between 1" regular foam layers. Recommended by veterinarians for older or arthritic dogs. Cushions pressure points that can cause muscle and joint stiffness that lead to discomfort and unrest. Gently cradles pets for the coziest, most supportive, therapeutic rest. Navy blue cover may be removed for cleaning. Size is 28" x 34"L, with 9" soft fleece pillow for $70.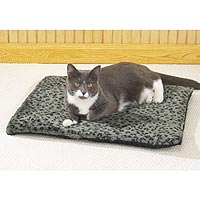 Slumber Pet Thermal Cat Mat
Keep Pets Warm With Slumber Pet™ Thermal Cat Mats
Thermal Cat Mat keeps cats and/or small dogs warm and comfortable without the use of electricity. Features a lightweight core that actually reflects pet's own body heat back to the animal. Provides soothing comfort to cats, kittens, aging pets, small dogs, or animals recovering from illness or injury. Machine washable pad features a pawprint motif on gray plush that reverses to solid black berber fleece. Measures 22"L x 18 1/2"W. Only $15!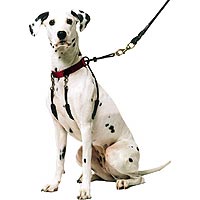 Sporn Pull-Stop Harnesses


Stop Excessive Pulling


The Original Pull-Stop Halter's tented design distributes tension under legs, not around neck. Offers walker better control than conventional halters or harnesses. Included sherpa sleeves provide added comfort for dog when needed. Adjustable nylon collar and restraint attaches to any lead (not included).
Buy this today at PetSmart Online:

Gentle Leader Headcollars
Gentle Leader Headcollars for Painless, Effective Control
Endorsed by leading veterinarians and trainers, these safe and effective Headcollars stop pulling, lunging, and other unwanted behaviors. Made of soft nylon, the headcollar fits around the top of the neck and encircles the base of the muzzle. Works by applying gentle pressure to back of neck and muzzle when lead is pulled to direct dog in a more natural manner. Offers total head control without choking. Gentle Leader Headcollars are available in small, medium or large; black or red.
Med 25-60 Lbs

Lrg 60-130 Lbs
The Cat Dancer
An Interactive Toy your cat will Love!
Tired of buying toys the cats don't take an interest in? Although not quite as amazing-looking to the humans, we've never met a cat that did not love the original Cat Dancer! It's always a big hit with kitties young and not-so-young!
Click here to purchase: