Some Details about a new strain of Dog Flu
An article was recently published in the New York Times about a potentially fatal canine flu that has had outbreaks in 7 states. As of September 22, 2005 the states reportedly having outbreaks included:
Arizona

Florida

Iowa

Massachutes

Texas

West Virginia

Wisconsin
Symptoms of this illness include a cough much like kennel cough, accompanied by high fever, high white blood cell count and runny nose.
The reported estimated fatality rate is 1-10% of infected dogs, with higher risk to young puppies and older dogs suspected. Effective treatments are being sought.
If your dog becomes ill with these type of symptoms, we recommend immediate vet attention + no contact with other dogs until you are advised otherwise by a vet (do not allow the usual sniff and greet, no daycare, boarding, dog parks, etc). Be sure to wash your hands before handling your other animals as well.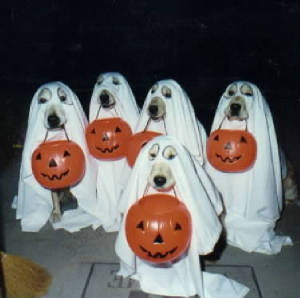 Fairy Dogparents wishes you a Happy Halloween! Remember, trick or treaters, that chocolate is toxic to dogs......so keep it out of reach.
The Puppy Press Archives
Click a link below to read other online additions of The Puppy Press:
A Reminder on Heat Stroke - August 2004
How to be a Responsible Pet Owner - September 2004
Does Your Pet Have Separation Anxiety? - October 2004
Happy Holidays with your Pets - November 2004
Canine Rivalry & Dog Aggression in the Home - December 2004
A List of Shelters & Rescue Groups in Minnesota
How To Help a Lost Pet - February 2005
What to Do About Puppy Biting and Jumping - March 2005
Life Lessons I've Learned from my Pets - April 2005
Outdoor vs. Indoor Cats - May 2005
Flea and Tick Protection - June 2005
Submissive and Excitement Urination - August 2005
Dear Dogs and Cats - September 2005